Living in Duisburg & Essen
Our partner university, the University of Duisburg-Essen, is less than an hour away and can be reached conveniently by local train. Duisburg and Essen are part of the Ruhrgebiet (Ruhr Area), a lively and vibrant metropolitan region. Formerly dominated by heavy industry and trade, today it offers a wide range of industrial monuments, cultural and leisure facilities, and more green and nature than many people might think.
The University has two main campuses, one in the city of Duisburg and one in the city of Essen, separated by an easy commute of just 15 minutes by local train. Both cities lie at the confluence of the Rhine and Ruhr rivers that form the backbone of the cities. They are both densely populated, dynamic cities and were once the heart of German economic production, particularly iron, coal, steel, and chemicals, the industries for which the Ruhr Area is famous.
The Duisburg Innenhafen, or the inner harbor, was also the key trading point of the time, popularly referred to as the "bread basket of the Ruhr Area." The city has many monuments, museums, and parks commemorating its historical significance. One key example is the remarkable Landschaftspark Duisburg-Nord, where the old buildings, steelworks, blast furnaces, and tanks have been refunctioned into aesthetically pleasing reminders of the region's rich industrial past. In the course of the restructuring and redesign of the Ruhr Area, many former spoil tips were transformed into what today are sites of extraordinary and inspiring works of art and breathtaking views, like the Heinrich-Hildebrand-Höhe with the walk-in sculpture Tiger and Turtle.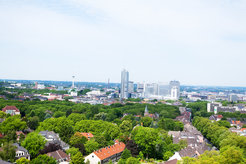 Essen meanwhile hosts the beautiful and palatial Villa Hügel, a landmark representing the aspirations of the then industrial proprietary class to which Alfred Krupp belonged. The disused Zollverein Coal Mine and Coking Plant, a UNESCO World Heritage Site since 2001, is today an icon of the industrial age and a tourist attraction, and at the same time a business location, educational campus, and a young and growing powerhouse for the creative industry. Essen has many faces, no two the same. It is a university town, a shopping city, a resort, a modern service and business center, and a cultural stronghold in the region.
These landmarks and attractions together paint an impressive picture of German economic life and the hopes and dreams of those past and present who contribute to it.