Program Overview
The International Max Planck Research School on the Social and Political Constitution of the Economy (IMPRS-SPCE) is a three-and-a-half-year doctoral program offered jointly by the Max Planck Institute for the Study of Societies (MPIfG), the University of Cologne's Faculty of Management, Economics and Social Sciences, and the Faculty of Social Sciences at the University of Duisburg-Essen.
The program offers doctoral degrees in sociology and political science. It begins with a 15-month period devoted to expanding students' methodological skills and firming up their theoretical background in economic sociology, comparative and international political economy, and organization studies. Students undergo intensive training in research design and methods and participate in a biweekly doctoral colloquium. During this period, they also develop and defend their research proposal. The second part of the program comprises 27 months during which students concentrate on researching and writing their thesis. They are encouraged to spend four months at one of the partner universities in France, Italy, or the United States. IMPRS-SPCE contracts or scholarships are awarded to enable doctoral students to complete first-rate doctoral theses during their time at the IMPRS-SPCE. If the presentation of interim results at an academic conference helps to achieve this aim, the IMPRS-SPCE will support it. The Summer Conference on Economy and Society, at which many students present their work in progress to peers and leading scholars in their fields, offers such an opportunity.
The IMPRS-SPCE offers:
The opportunity to work in a stimulating intellectual environment within an international research community
Excellent courses in economic sociology and political economy for exceptionally talented graduate students
Methods courses tailored to students' needs, where students learn the specific methods they need for their project
Close collaboration with advisors
Excellent research facilities
Instruction in English
Thesis may be written in English or German
An international learning and working experience in a major city in the heart of Western Europe
Exchange with partner institutions in France (including a dual degree opportunity), Italy, and the United States
A fixed-term contract or scholarship (up to 42 months)
Further funds for stays abroad, fieldwork, conference trips, or transcription costs
A six-month wrap-up on successful completion of the program, allowing additional time for publishing or teaching and applying for postdoc positions
Structure of the program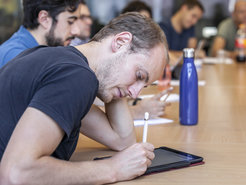 During the first year, students complete foundational coursework to strengthen their theoretical background and methodological skills. They also submit a first-year paper about their doctoral thesis. Students discuss their first-year paper in a joint workshop with the IMPRS Faculty at the end of the first year.
During the first six months, all new IMPRS students work at the MPIfG. After this period, students with advisors at the University of Cologne or the University of Duisburg-Essen move to their advisor's institution.
The second phase of the program is dedicated to thesis research and writing. These years provide a structure of guided independence, allowing students to concentrate on their research and receive feedback through exchange with peers, advisors, and other scholars.

Students have the chance to spend up to four months at the School's US, Italian, or French partner universities or to pursue a double doctorate from the University of Cologne and Sciences Po, Paris.

There are several opportunities for students to present research in progress to peers and scholars. This refers to colloquium presentations (especially in the second year) as well as to participation in an international conference (usually in the third year). A special highlight is the International Max Planck Summer Conference on Economy, Politics and Society, where selected third year students have the chance to discuss their work with leading senior scholars in their field as well as with doctoral students from the IMPRS partner universities worldwide.

Students may participate in German language courses and our professional development program, including courses on academic publishing, scientific writing in English, and computer programs.