Maria Ioannis Baganha Best Dissertation Award for Hannah Pool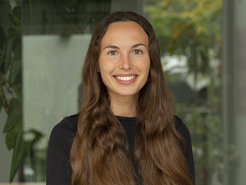 On June 30, during the 19th Annual Conference of IMSCOE (International Migration Research Network) in Oslo, Hannah Pool received the prestigious Maria Ioannis Baganha Best Dissertation Award. The award has been presented annually since 2010 to honor outstanding dissertations in the field of international migration research. With a current membership of sixty-one research institutions from most European countries, IMSCOE is Europe's largest interdisciplinary research network for migration, integration, and diversity studies.
In her dissertation, "'Doing the Game': The Moral Economy of Coming to Europe," Pool explores the migration trajectories of people leaving Afghanistan for Western Europe via Iran, Turkey, Greece, and the Balkan route. She has been a postdoctoral researcher at the MPIfG since receiving her doctorate in 2021.